Late 20th century "Flesh Pots", Stoke on Trent pottery model of the head of Marilyn Monroe with
Auctioneer has chosen not to publish the price of this lot
Description
Late 20th century "Flesh Pots", Stoke on Trent pottery model of the head of Marilyn Monroe with polychrome decoration, 9¾" high.
Auction Details
Shipping
T&Cs & Important Info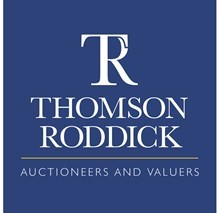 Thomson Roddick & Medcalf Carlisle
Late 20th century "Flesh Pots", Stoke on Trent pottery model of the head of Marilyn Monroe with polychrome decoration, 9¾" high.
Antique Sale - Jewellery, Silver, Ceramics, Glass, Antiques, Works of Art & Antique Furniture
Venue Address
Coleridge House
Shaddongate
Carlisle
Cumbria
CA2 5TU
United Kingdom
General delivery information available from the auctioneer
Collection & Postage
Carlisle auction room offers a UK postal service, postage quotes are given on request the morning after the sale. Overseas postage is arranged by the buyer we recommend mailboxes Newcastle email info@mbenewcastle.co.uk or call 0191 222 0018
Edinburgh & Dumfries Auction Rooms are not usually able to offer a packing and shipping service, however Mail Boxes specialise in packing and shipping smaller items (under 30kg). Although we can offer a limited, discretionary postal option on some items. Please contact us for details. See below for Carlisle postage rates.
Clients should contact Mike Smith at Mailboxes direct at 44 – 46 Morningside Road, Edinburgh EH10 4BF, Tel: 0131 556 6226 or info@mbeedinburgh.com.
Mailboxes will arrange to collect your lots from us at Rosewell (items purchased from the saleroom in Dumfries will be transferred to Rosewell by us free of charge).
For larger items - packing and worldwide shipping service
Overseas buyers and purchasers of larger items - should make their own arrangements. We recommend using the professional packaging and courier services such as...
Carlisle postal service
If you are within the United Kingdom and are considering having your purchases dispatched to you, Thomson Roddick offer an in-house service for items purchased at the Carlisle saleroom, on the following basis The following prices are for UK & Northern Ireland delivery only. We do not post every day but your parcel will be sent as soon as possible. Overseas buyers should make their own arrangements but we will pack if required, for a carrier to collect. (A small charge maybe made for this).
Small items are sent by Royal Mail Special Delivery -
Small Box (shoe box size and/or 1kg max) or Large Jiffy bag = £14 will be insured up to £500 and should be delivered next day (if more insurance is needed please contact us)
All Parcels over 1kg and up to 20KG (not exceeding Box size**) will be sent by Parcelforce Express 48 (2 day service) No insurance is available on Parcelforce (if insurance is needed please contact a member of staff)
1kg up to and including 5kg - £15 (inc VAT)
England, Wales and Scotland (Parcelforce Zone 1) (Excluding Highlands & Islands)
5.1kg up to and including 15kg - £20 (inc VAT)
England, Wales and Scotland (Parcelforce Zone 1) (Excluding Highlands & Islands)
15.1kg up to and including 20kg - £25 (inc VAT)
England, Wales and Scotland (Parcelforce Zone 1) (Excluding Highlands & Islands)
Important Information
In house UK packaging and delivery service. Please see the website for further details. Overseas delivery please email for further information.

Buyer's Premium 16% + VAT

Commission Bids:
The Auctioneers will be pleased to execute commissions for those unable to attend the sale. Where live telephone bids are booked, it is particularly emphasised that these are entirely at the risk of the potential bidder. No liability is accepted for failure to connect, to hold connection or to execute the bids, or for any claims arising therefrom.

Enquiries:
Telephone No: 01228 528939. Fax No: 01228 592128

Conditions:
Conditions of sale as displayed at the saleroom or available on request. It should be noted that any queries or complaints regarding lots purchased in this sale must be made to the auctioneers within five working days subsequent to the sale date or, in the case of commission bidders, within ten working days.

Email:
Parties making enquiry by Email must include a telephone number or fax number and a postal address. Bids or enquiries sent by Email should arrive not later than 3.00 pm on the day PRIOR to the sale. Our Email address is: auctions@thomsonroddick.com

Shipping:
There will be only limited delivery of purchases while the sale is in progress. A receipted account must be handed to the porter for checking before goods are packed and removed.

Postage or shipping of smaller items within the UK is readily arranged, parties requiring overseas shipping should contact the auctioneers in advance.

All lots are to be removed on the sale day unless arrangements have specifically been made with the Auctioneers.
Terms & Conditions
CONDITIONS OF BUSINESS
N.B. PLEASE READ ALL THESE CONDITIONS CAREFULLY
(NOTE: the term "the Auctioneers" means Thomson, Roddick & Medcalf)


1) General conditions of business
a) Persons bidding at the sale, together with persons bidding by commission (to include instructions to bid by email, telephone and/or online bidding section 3 clause d], will be deemed, by the Auctioneers to agree with these conditions of business
b) These conditions, together with any additional conditions appearing in the catalogue, are the terms and conditions subject to which Thomson, Roddick & Medcalf. (The Auctioneers) as agents for the vendor shall sell goods to the purchaser (The Bidder) and all other conditions, whether express, or implied at common law, or by statute, as are capable of lawful exclusion are hereby excluded. By participating in this sale all vendors and purchasers agree to be bound by these conditions and are deemed to have read and have full knowledge of them.
c) The Auctioneers act as Agents only.
d) Particular attention should be paid to the paragraph 2 headed "Descriptions" below.
e) The highest bidder shall be the buyer at the hammer price except in the case of a dispute. If during the auction the auctioneer considers that a dispute has arisen, he has absolute discretion to settle it or to reoffer the lot. The Auctioneers decision in this matter is final.
f) The Auctioneers have the right to divide any lot, to combine any two or more lots together or to withdraw any lot or lots from sale, regulate the bidding, refuse bids or cancel the sale without giving any notice or reason whatsoever.
g) Persons attending the auction site and premises do so at their own risk. Except in respect of death or personal injury caused by the Auctioneers' negligence, the Auctioneers shall not be responsible for any loss or damage that may occur on the auction site or premises.
h) The Auctioneers shall be relieved of its contractual obligations to the extent that the performance thereof is prevented, frustrated, impeded or delayed directly or indirectly by or in consequence of any default by the buyer or vendor, statue, regulation or order of any government, council or other authority, riot, public disorder, strike, industrial dispute, lock out or other labour disturbance, storm, flood, explosion or other natural disaster or any other clause beyond the reasonable control of the Auctioneers.
i) Your Personal Information (Data Protection)
i) All personal information that We may collect (including, but not limited to, your name and address) will be collected, used and held in accordance with the provisions of the Data Protection Act 1998 and your rights under that Act.
ii) We may use your personal information to:
(a) Provide Our Services to you.
(b) Process your payments.
(c) Inform you of forthcoming auctions and services available from Us. You may request that We stop sending you this information at any time.
j) If any of the provisions of these Terms and Conditions are found to be unlawful, invalid or otherwise unenforceable by any court or other authority, that / those provision(s) shall be deemed severed from the remainder of these Terms and Conditions. The remainder of these Terms and Conditions shall be valid and enforceable.
k) These terms and conditions shall be interpreted in accordance with English Law and any dispute or action that may arise shall be dealt with English Law in an English Court.
2) Descriptions
a) Whilst The Auctioneers make every effort to ensure the accuracy of their catalogue and description of any lot they do not accept responsibility regarding authenticity, attribution, genuineness, origin, authorship, date, age, period, condition or quality of any lot. All goods are sold with faults and imperfections and errors of description. If they have been instructed in writing by the vendor to certify a lot, The Auctioneers do so as agents of the vendor and are not themselves responsible for such claims. All statements whether printed in the catalogue or made orally are statements of opinion and are not to be taken as being or implying any warranties or representations of fact. All Bidders should rely on their own judgement as to matters affecting any lot.
b) Where condition reports are provided by the auctioneers, they use their best endeavours to ensure their accuracy from what is a visual inspection only, but this condition is not voided and the purchaser is still deemed to have satisfied himself before bidding.
c) Purchasers wishing to export items purchased will be solely responsible for obtaining any authorisation or licences & may not delay payment & collection on account of this
d) Any queries or complaints regarding lots purchased at this sale must be made to the auctioneers within 5 working days subsequent to the sale date (or in the case of commission bids, within 14 days subsequent to the sale date). No returns or settlements can be considered after these times have elapsed
3) Terms
a) All items are subject to a 16% buyers premium exclusive of VAT (total of 19.2%, VAT non-reclaimable).
b) Payments
i) Cheques will not be accepted from Purchasers unknown to the Auctioneers. Such Purchasers should therefore instruct their Bankers to facilitate suitable credit arrangements with the Auctioneers. Debit cards are accepted. Payments can be made in cash up to a limit. Credit card payments will only be accepted at the discretion of the auctioneers, if payment is made by Credit Card an additional charge of 2.5% of the gross amount [including postage] will be added to the amount payable. If the buyer instructs their credit card provider to charge back for the goods bought the buyer agrees to section 3 clause f [ownership] of these conditions of business.
ii) All purchases must be paid for on the day of sale, unless prior arrangements have been made with the Auctioneers. Commission purchases must be paid for within 7 days of the sale regardless of whether the lots have been collected. Title to goods shall not pass to the purchaser until they are paid for notwithstanding which section 3 clause f [ownership] below shall apply
c) Delivery
i) There can be no deliveries of lots while the sale is in progress.
ii) A receipted account must be handed to the Auctioneer's sale porter before any deliveries can be effected
iii) In all cases lots shall remain at the risk of the Vendor save that lots shall be at the sole risk of the Bidder form the fall of the hammer, and such lots shall be taken away with all faults, defects and errors of description, of any nature whatsoever. Neither the Auctioneers, nor their servants or agents shall at any time be responsible for any loss or damage to lots whether caused by negligence or otherwise. No purchaser shall be entitled to remove any lot until he or she has paid for the whole of the lots purchased.
iv) The Auctioneers are not shippers or packers. We will at our discretion and in accordance with the administration charges stated on our website under the heading of "Postage" pack and post items within the UK mainland only [Royal mail and Parcelforce conditions of carriage apply]. We will if requested suggest couriers for large and/or overseas purchases.
d) Online bidding
i) For specific auctions, the auctioneers may offer an online bidding service via the-saleroom.com for bidders who cannot attend the sale. In completing the bidder registration on www.the-saleroom.com and providing your credit card details and unless alternative arrangements are agreed with us, you:

1. Authorise the auctioneers, to take full payment on the day following the sale using the credit card details on file unless you contact us to arrange payment before then.
2. Confirm that you are authorised to provide these credit card details to Thomson, Roddick & Medcalf Auctioneers through www.the-saleroom.com and agree that Thomson, Roddick & Medcalf Auctioneers are entitled to ship the goods to the card holder name and card holder address provided in fulfilment of the sale.
3. Accept that your use of the-saleroom.com facilities will be restricted and your details shared with other auctioneers should a payment not have been received or authorised within seven days of the sale date. Please note that any lots purchased via the-saleroom.com live auction service will be subject to an additional 3% commission charge + VAT at the rate imposed on the hammer price
e) Artist Resale Rights
i) In accordance with Artists Resale Rights Regulations 2006 all lots marked for Artist Resale Rights in the catalogue and/or announced on the rostrum which sell for 1,000 euros or more are subject to a resale royalty charge ("Royalty"). This Royalty is payable by the Bidder. The Royalty will be charged at a rate of 4% of the total hammer price (exclusive of Bidder's premium) for lots selling for amounts up to 50,000 euros. For lots selling in excess of 50,001, the Royalty shall be calculated at a reduced rate (details available on request). The Royalty is not subject to VAT and is payable in sterling calculated on the day of sale at the prevailing rate of exchange. Payment shall be passed directly to the Design and Artists Copyright Society (DACS) 33 Great Sutton Street, London EC1V 0DX. For further information please contact the Auctioneers or DACS on 0845 4103410 or visit their website at www.dacs.org.uk
f) Ownership
i) Ownership in each lot shall not pass to the Bidder until full payment has been made (in cleared funds) of all sums due to the Vendor and the Auctioneers pursuant to these Conditions.
ii) Until such time as ownership of the lot passes to the Bidder the Vendor and the Auctioneers shall be able to enter onto any premises of the Bidder, or any third party where the.goods are being stored and repossess the goods or be entitled at any time to require the Bidder to deliver up the Goods to the Vendor and/or the Auctioneers
g) Any payments by the Bidder to the Auctioneers may be applied by the Auctioneers towards any sum owing from the Bidder to the Auctioneers, without regard to any directions of the Bidder or his agent, whether express or implied as to how that payment should be applied.
h) Any sums due, but unpaid, by the Vendor or the Bidder pursuant to these conditions shall carry interest (as well as after judgment) at the rate of 4% above Barclays Bank plc base rate from time to time from the due date until payment, such interest to be compounded monthly
4) ELECTRICAL GOODS
a) It is essential that items included in this sale which were originally operated by mains electricity are checked by a qualified electrician prior to use. These are not suitable for connection to the mains electrical supply. The items may not comply with statutory requirements and are only offered for sale for display or research purposes. Thomson, Roddick & Medcalf cannot accept responsibility for any act of the buyer in contravention of the above.
5) PHOTOGRAPHS AND ILLUSTRATIONS
a) The seller and purchaser grant to the Auctioneers full and absolute right to photograph and illustrate any individual lot placed in their hands for sale and to use such photographs and illustrations at any time at their absolute discretion, whether in connection with the particular auction sale at which the lot is exposed or otherwise
6) SELLERS
a) The seller warrants to the Auctioneer that the seller has authority to sell all items entered for sale and that no item entered by them is a deliberate forgery or is the subject of substantial concealed alteration or repair of which they should have knowledge.
b) The seller is deemed to have authorised the Auctioneers to deduct their commission and charges from the sale proceeds. In the case of all individual lots realising less than £1,000, the proceeds will normally be paid by cheque posted within approximately 14 days of the sale date (21 days in the case of coins, medals & militaria). Individual items realising £1,000 or over, not paid for within 14 days, shall remain the property of the seller until such time as the purchaser pays for them or until, in the event of non-payment, the Auctioneers, at their absolute discretion cancel the sale with a view to re-offering the item or returning it to the Seller. If for any reason, we make payment to the seller before receiving payment ourselves from the purchaser, then we shall acquire the sellers title in the goods and the rights to recover payment from the purchaser.
c) A charge of £2 per lot (plus vat) is made to the seller for lotting & for the provision of insurance cover for the items whilst in the custody of the Auctioneers, such items being fully covered to a maximum of their net auction value.
d) Where collection and transport of goods is arranged by the Auctioneer on the sellers behalf, this is charged to the vendor at cost.
e) The Auctioneer shall not be liable for any lots delivered to their premises without sale instruction and reserve the right to make a housing charge, this charge is also applicable to lots that have been requested to be collected by the Auctioneers. If not removed within two working weeks the Auctioneers hold the right to sell the items in order to recover any costs incurred by them.
f) Unless instructed by accompanying written notice, all goods, which the Auctioneers deem to have no saleable value, will be disposed of at the Auctioneers discretion either to a charity or by consignment for destruction
g) The vendor shall be entitled to place prior to the sale a reserve on any lot, being the minimum hammer price at which the said lot may be treated as sold. Where a reserve has been placed the auctioneer may bid on behalf of the vendor.



See Full Terms And Conditions