A SAC AND FOX NATIVE AMERICAN INDIANS SKIRT WITH OSAGE TRIBE BEADED SASH, 20TH CENTURY, the black
Description
A SAC AND FOX NATIVE AMERICAN INDIANS SKIRT WITH OSAGE TRIBE BEADED SASH, 20TH CENTURY, the black wool cloth skirt with hand sewn hidden stitched broad ribbons in a light blue, pink, black and light green silk repeating pattern, worn with a tie string and gathered at the sides, height: 31 1/2", width: 34"; with an Osaka tribe finger woven wool yarns sash, centering dark blue, magenta, green and gold zig zag patterned panel, enclosed by side bands with undulating red yarn lines and conforming white pony beads, ending in matching long white pony bead applied yarn tassels, height: 5 1/2", width: 33"; each mounted within a custom acrylic shadow box and giltwood frame. Note: The Sac and Fox (or Mesquakie - Sauk tribes) are two closely related but separate tribes that merged in 1733. Originally they inhabited southern areas of Michigan and Wisconsin but today are generally found on reservations spread throughout Oklahoma, Iowa and Kansas. Their numbers have increased in the late 20th century to 4,375 according to the 2000 census. Provenance: Property from a Fortune 500 Energy Company, Houston, Texas. Condition: Each in good condition and the skirt with some faint spots and loose threads scattered throughout as well as being lightly faded. The sash has some loose yarns, a few faint spots, some small separated areas and is lightly faded throughout. Simpson Galleries strongly encourages in-person inspection of items by the bidder. Statements by Simpson Galleries regarding the condition of objects are for guidance only and should not be relied upon as statements of fact and do not constitute a representation, warranty, or assumption of liability by Simpson Galleries. All lots offered are sold "AS IS."
Auction Details
Shipping
T&Cs & Important Info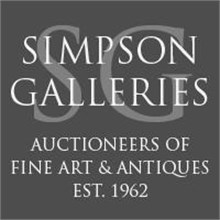 Simpson Galleries, LLC.
A SAC AND FOX NATIVE AMERICAN INDIANS SKIRT WITH OSAGE TRIBE BEADED SASH, 20TH CENTURY, the black wool cloth skirt with hand sewn hidden stitched broad ribbons in a light blue, pink, black and light green silk repeating pattern, worn with a tie string and gathered at the sides, height: 31 1/2", width: 34"; with an Osaka tribe finger woven wool yarns sash, centering dark blue, magenta, green and gold zig zag patterned panel, enclosed by side bands with undulating red yarn lines and conforming white pony beads, ending in matching long white pony bead applied yarn tassels, height: 5 1/2", width: 33"; each mounted within a custom acrylic shadow box and giltwood frame. Note: The Sac and Fox (or Mesquakie - Sauk tribes) are two closely related but separate tribes that merged in 1733. Originally they inhabited southern areas of Michigan and Wisconsin but today are generally found on reservations spread throughout Oklahoma, Iowa and Kansas. Their numbers have increased in the late 20th century to 4,375 according to the 2000 census. Provenance: Property from a Fortune 500 Energy Company, Houston, Texas. Condition: Each in good condition and the skirt with some faint spots and loose threads scattered throughout as well as being lightly faded. The sash has some loose yarns, a few faint spots, some small separated areas and is lightly faded throughout. Simpson Galleries strongly encourages in-person inspection of items by the bidder. Statements by Simpson Galleries regarding the condition of objects are for guidance only and should not be relied upon as statements of fact and do not constitute a representation, warranty, or assumption of liability by Simpson Galleries. All lots offered are sold "AS IS."
Fine Art & Antiques
Venue Address
6116 Skyline Drive
Suite 1
Houston
Texas
77057
United States
General delivery information available from the auctioneer
There is a third party service that provides a shipping service. Simpsons will help coordinate this service.
Important Information
Viewing Monday - Friday the week prior to the auction.

Buyer's Premium: 19.5%

Our catalogues are available upon request. Please email or call 713-524-6751 to order one.

Simpson Galleries accepts credit cards, cheques and money orders. Bank transfers are preferred overseas. We do not accept Paypal or American Express.
Shipping may be secured through -
The UPS Store: store2567@theupsstore.com 281-764-9551,
The UPS Store: store3229@theupsstore.com 713-334-8869, ,
PACK-N-SEND: sales@pack-n-send.com 713-266-1450,
ACTS Crating and Transportation Services: crating@actsintl.com 713-869-2269,
NAVIS Pack & Ship: 17013tx@gonavis.com 713-352-303,
Wintersteen Trucking: wintersteentrucking@yahoo.com 800-253-0617,
or the shipper of your choice.
Terms & Conditions
*SIMPSON GALLERIES, LLC. DOES NOT PROVIDE SHIPPING SERVICES OR SHIPPING QUOTES. WE CAN REFER SUCCESSFUL BIDDERS TO A NATIONAL/INTERNATIONAL SHIPPER*

**PAYMENT MUST BE MADE WITHIN FIVE WORKING DAYS OF THE SALE. PAYMENTS MAY BE MADE IN CASH (In House Only) OR BY PERSONAL CHECK, CASHIER'S CHECK, CREDIT CARD (Credit card payment accepted up to a maximum amount of $5,000) OR BANK WIRE TRANSFER. WE DO NOT ACCEPT PAYPAL OR AMERICAN EXPRESS.**

***ALL SALES ARE "AS IS" "WHERE IS" WITHOUT ANY WARRANTIES WHATSOEVER. PLEASE SEE SECTIONS 2, 7, AND 8 BELOW IN WHICH ANY AND ALL EXPRESS AND IMPLIED WARRANTIES (INCLUDING WITHOUT LIMITATION ANY WARRANTY AGAINST REDHIBITORY DEFECTS) ARE WAIVED.***

1. Terms: cash, personal check, cashier's check, Master Card™, Visa™, or Discover (credit card payment accepted up to a maximum amount of $5,000).

2. SIMPSON GALLERIES, LLC, (hereinafter referred to as Simpson Galleries), has endeavored to catalogue and describe the property correctly; however, all property is sold "as is" "where is" and neither Simpson Galleries nor its consignors will be responsible for the description, genuineness, provenance, or condition of the property. All weights and dimensions are to be considered approximate. No statement contained in the catalogue, or made orally at the sale or elsewhere, shall be deemed to be such a warranty, representation, or an assumption of liability. ALL SALES ARE FINAL. NO REFUNDS.

3. In regard to the works of art contained in the catalogue, Simpson Galleries has endeavored to correctly describe and attribute authorship to the best of their knowledge and ability and through the use of outside experts; however, since authentication and/or attribution is a matter of scholarship and therefore subject to change, Simpson Galleries does not make any express or implied warranties, guarantees, or representations and strongly suggests that prior to bidding the buyer avail himself of his own expert, appraiser, or authenticator and rely solely on his advice or judgment.

4. The highest bidder acknowledged by the auctioneer shall be the purchaser. In the event of any dispute between bidders, the auctioneer shall have absolute discretion either to determine the successful bidder, in which event his determination shall be final, or to re-offer and re-sell the article in dispute. If any dispute arises after the sale, Simpson Galleries' sale record shall be conclusive as to who was the purchaser, the amount of the highest bid, and in all other respects.

5. Floor bids take precedence over any other bids regardless of date or time placed. The live auction console does not differentiate between left bids and live bids; therefore, the date and/or time a particular bid is placed has no bearing on which bid is accepted by the auctioneer. Any bidding service offered by Simpson Galleries, (whether it be absentee, phone, or live bidding), is done so as a courtesy. Simpson Galleries is not responsible for errors or for the failure to execute any bid for any reason.

6. No properties purchased during auction may be removed prior to end of session.

7. Defects are not necessarily noted in the catalogue.

8. NO WARRANTY, WHETHER EXPRESSED OR IMPLIED, IS MADE WITH RESPECT TO ANY DESCRIPTION CONTAINED IN THIS AUCTION. Any description of the items contained in this auction is for the sole purpose of identifying the items, and no description of items has been made part of the basis of the bargain or has created any express warranty that the goods would conform to any description made by the Auctioneer.

9. All shipping charges will be borne by the successful bidder. Purchased property must be collected within 14 days following the auction. Property not collected within 14 days of the close of the auction will be subject to a storage fee equal to 1.5% of the hammer price per day. Property not collected within 60 days of the close of the auction will be considered abandoned and any monies paid to Simpson Galleries by the purchaser will be considered liquidated damages.

10. A premium of 19.5% of the purchaser's bid will be added and is payable as part of the total price.

11. Placing a bid will indicate full understanding of and compliance with these conditions of sale.

Auctioneer - Ray Simpson, Lic. 6899.
See Full Terms And Conditions