A PAIR OF SILVER SAUCE BOATS, date letter 'G' for 1949-50, 925 sterling silver, maker's mark E.V
Auctioneer has chosen not to publish the price of this lot
Description
A PAIR OF SILVER SAUCE BOATS, date letter 'G' for 1949-50, 925 sterling silver, maker's mark E.V for Viner's Ltd (Emile Viner), decorated to the rim with Celtic motif, sitting on tripod foot
Auction Details
Shipping
T&Cs & Important Info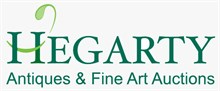 Hegarty Fine Art & Antiques Auctioneers
A PAIR OF SILVER SAUCE BOATS, date letter 'G' for 1949-50, 925 sterling silver, maker's mark E.V for Viner's Ltd (Emile Viner), decorated to the rim with Celtic motif, sitting on tripod foot
WEST CORK COUNTRY HOUSE AUCTION
Venue Address
Parnell Business Park
The Bypass
,
,
Bandon
Co. Cork
,
Ireland
General delivery information available from the auctioneer
We do NOT provide an in-house post & packing service but we can refer you to a local professional packing & delivery firm "Mailboxes" for any items which you are unable to collect – they will pick up your purchase(s) from us, then pack & ship to you.
You can contact our local Mailboxes at art@mbeireland.com, or you can telephone Stephen at +353 21 497 5060.
Their website is https://www.mbeireland.ie/irelandcork.
Important Information
PLEASE NOTE: We will not be in a position to process requests for Condition Reports or additional images on Auction Day.
Terms & Conditions
The Buyer. The maker of the highest bid accepted by the Auctioneer conducting the sale shall be the buyer at the hammer price. If any dispute arises, the auctioneer shall have absolute discretion to settle the matter. The auctioneer reserves the right to refuse any bid. The Auctioneer shall have absolute discretion to withdraw, alter or combine with any other Lot all Lots offered for sale, to refuse any bid, to regulate the bidding, re-offer an item or cancel the sale without in any case giving any reason or without previous notice. The Auctioneer shall act reasonably in exercising this discretion. The Auctioneer's right to bid on the vendor's behalf is expressly reserved up to the amount of any reserve imposed by the vendor. The bidder in the room who is successful in purchasing any lot or lots is entirely responsible for paying for such lot or lots in accordance with our general conditions of sale. Purchases made on behalf of a third party are entirely the responsibility of the bidder in the room. The auctioneer reserves the right to bid on behalf of the vendors for any lot and to withdraw, consolidate or divide any lot or lots. Bidding increments shall be at the Auctioneer's sole discretion. By making a bid, prospective purchasers acknowledge acceptance of these Conditions.
Registration. To assist the progress of sale, all prospective buyers must register their name and address, contact telephone number at reception and collect a bidding number before the sale commences. Should there be any doubts as to price or buyer, please draw the auctioneer's attention to it immediately. We reserve the the right at our discretion, to refuse admission to our premises or attendance at our auctions by any person.
Buyer's Commission A buyer's commission is a percentage of the hammer price plus VAT @ standard rate (under Auctioneer's Margin scheme) on the commission is payable on each lot. See auction catalogue for details.
Auctioneers Margin Scheme. The Auctioneers Margin Scheme allows Auctioneer's to sell items without VAT on the hammer price. Under the margin scheme an amount equivalent to VAT at the current rate is added to the buyer's commission. In accordance with regulations, this amount cannot be refunded and the VAT element will not be shown separately on the buyer's invoice.
5. Payment. All payments must be made at the conclusion of the sale by cash, or by cheque supported by a valid guarantee card or bankers reference. Third party cheques will not be accepted in payment. All purchases must be paid in full before any lot is removed from the premises. Debit card & credit card payments are also accepted where technology permits it, debit card payments are free of charge but credit card payments may carry a surcharge of 3% levied by the credit card company and shall be borne by the purchaser in addition to the Auctioneer's charges. No goods will be released to buyers unknown to the Auctioneer without adequate reference or before their cheques have cleared. Anyone who, for whatever reason, is unable to pay for their goods on the day of the sale, must inform the Auctioneer as to the date and methods that payment will be made
6. Collection of Lots. The buyer is required to remove their lots from the Auction rooms within 14 days, otherwise storage fees will apply.
Attribution and Condition of Lots. Every effort is made to ensure the accuracy of any statement as to authorship, attribution, origin, date, age, provenance and condition of any lot whether or not such statement forms part of the description of any such lot. Whether any such statement is made orally or in the catalogue it is an expression of opinion and the Auctioneer accepts no responsibility for any inaccuracies. Each buyer by making a bid for a lot acknowledges that he has satisfied himself fully as to the attribution and condition of the lot. If any damage is done to any lot at the viewing or before, during or after the sale, such damage shall be made good by the person committing such damage, principals being responsible for the acts of their servants, such damage to be assessed by the Auctioneer. The absence of reference to the condition of a Lot does not imply that it is in good order or free from imperfection. All Lots are sold as seen.
Ownership of Purchases. The ownership of the lot(s) purchased will not pass to the buyer until the buyer has paid the Auctioneer in full the total amount due or upon the clearance of any cheque used for payment and the Auctioneer have applied such payment to the lot. Lots shall be held to be at the buyer's risk from the fall of the hammer.
Transfer of Risk. Each lot shall be the purchaser's sole risk from the fall of the hammer and shall be sold with all faults and imperfections, the auctioneer not being responsible for the correct description, genuineness or authenticity of any lot and making no warranty whatsoever. The purchaser is deemed to have inspected the lots and satisfied himself as to their condition.
Commission Bids & Internet Bids. If instructed, the Auctioneer will execute bids and advise prospective purchasers. This service is free. Lots will always be purchased as cheaply as is allowed by such other bids and reserves as are on the auctioneer's books. In the event of identical bids, the earliest will take precedence. There must always be a maximum limit indicated, i.e. the amount to which you would bid if you were attending the auction yourself. Commission bids placed by telephone are accepted at the client's risk. All commission bids must reach the auctioneer within one hour of the close of the view day. Where two or more Commission bids at the same level are recorded we reserve the right in our absolute discretion to prefer the first bid so made. While we make every effort to execute bids on your behalf neither the Auctioneer nor our employees shall be responsible for any failure to do so.
Telephone Bids. Requests for telephone bidding must be registered with the Auctioneer within one hour of the close of the view day. It may not be possible to accept requests on sale days. Telephone bids will only be accepted on Lots received before the commencement of the sale. Whilst every effort will be made to execute telephone bidding, the Auctioneer cannot be held responsible for any default or neglect in connection with this service.
Pre Sale Estimates. Given by the Auctioneer or a member of staff are their opinion as to what they consider any particular lot is likely to realise. However any lot may sell at a figure less than the lower estimate and for more than the higher estimated figure.
Third Party Liability. Every person on the Auctioneer' premises before, during or after a sale or at any other time, shall be deemed to be there at their own risk and shall have no claim against the auctioneer in respect of any injury they may sustain or any accident which may occur.
Any notices that may be displayed from time to time by the Auctioneer in the sale ground or salerooms shall be deemed to form part of and be included within the general conditions of sale.
Online Bidding For some AuctionsHegarty Antiques & Fine Art Auctions offers an online bidding service via the-saleroom.com for bidders who cannot attend the sale. In completing the bidder registration on www.the-saleroom.com and providing your credit card details and unless alternative arrangements are agreed with Hegarty Antiques & Fine Art Auctions:
1. authorise Hegarty Antiques & Fine Art Auctions, if they so wish, to charge the credit card given in part or full payment, including all fees, for items successfully purchased in the auction via the-saleroom.com, and
2. confirm that you are authorised to provide these credit card details to 'Auctioneer Name' through www.the-saleroom.com and agree that Hegarty Antiques & Fine Art Auctions are entitled to ship the goods to the card holder name and card holder address provided in fulfilment of the sale.
Please note that any lots purchased via the-saleroom.com live auction service will be subject to an additional 3% commission charge + VAT at the rate imposed on the hammer price
See Full Terms and Conditions