Kenneth Turner, London silver plated stag candle stand and snuffer, the stand 13" high (2)

Loading...
Register to bid online
You're registered for this auction
Waiting for registration approval
Registration has been declined
Please confirm your max bid
You are about to place a bid of GBP.
Once you confirm your max bid, you'll find out how it fares against other bidders. Next up, keep an eye on your inbox to see if you are outbid by anyone. For the best chance of winning, log in to bid in the live auction when it starts.
Bids do not include VAT, buyer's premium or delivery.
By confirming your bid, you agree that you have read and accepted the-saleroom.com and the auctioneer's terms and conditions. Confirming your bid is a legally binding obligation to purchase and pay for the lot should your bid be successful.
Please note: you can manage your bids before the auction starts in My Saleroom. Your max bid is private and confidential and is not disclosed to the auctioneer.
Your bid is off increment
Choose one of the quick bid options below:
Bids do not include VAT, buyer's premium or delivery.
By confirming your bid, you agree that you have read and accepted the-saleroom.com and the auctioneer's terms and conditions. Confirming your bid is a legally binding obligation to purchase and pay for the lot should your bid be successful.
Please note: you can manage your bids before the auction starts in My Saleroom. Your max bid is private and confidential and is not disclosed to the auctioneer.

Description
Kenneth Turner, London silver plated stag candle stand and snuffer, the stand 13" high (2)
Auction Details
Shipping
T&Cs & Important Info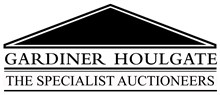 Gardiner Houlgate
Kenneth Turner, London silver plated stag candle stand and snuffer, the stand 13" high (2)
The Contents of a Georgian Property
Venue Address
Auction Rooms
9 Leafield Way
Corsham
SN13 9SW
United Kingdom
Delivery with our partner Mail Boxes Etc.
Delivery
(POA*)

- UK Mainland & Northern Ireland
*Price based on single lot, discounted delivery when you buy multiple lots from this auction
Delivery is provided by Auction Logistics from Mail Boxes Etc. (Terms and Conditions). For questions regarding delivery please contact Mail Boxes Etc. customer service
Email: auctionlogisticsenquiries@mbe.uk
Telephone: +44(0)871 221 1233
Calls charged at £0.13 per minute from UK landlines and mobiles plus your phone company's access charge.
PLEASE ENSURE YOU ARE AWARE OF THE POTENTIAL P&P COSTS PRIOR TO BIDDING ON AN ITEM
We offer a packing service for smaller non-fragile items to all UK postal addresses, such as jewellery, watches, and non-breakable small collectables. (Minimum fee £16 plus VAT). All parcels are sent insured via Royal Mail Special Delivery subject to the parcel dimensions, or via another 'signed for' service. Please contact us for a personal quote.
Under no circumstances will items such as watches, jewellery and precious metals be posted to an alternative address.
*All prices subject to VAT, maximum insurance cover up to £2500 apply.
Larger and fragile items including all International deliveries can only be sent through professional couriers. Gardiner Houlgate recommend the following companies and advise you to obtain several quotations. Once you have instructed a courier, please kindly inform us as to whom will be collecting on your behalf, failure to do so may result in an item not being released.
Part & Parcel
www.partandparceluk.co.uk
Tel: 01252 545611
Alban Shipping
www.albanshipping.co.uk
Tel: 01582 493099
MBE Mailboxes (Chippenham)
Tel: 01249 446141
www.mbe.co.uk/chippenham
Local Carriers
Van & Deliver
Tel: 07774 806784 01225 700553
www.vandeliver.co.uk
sr.jordan@btinternet.co.uk
John Wales Removals & Storage (Corsham)
www.removalswiltshire.co.uk
Tel: 01225 344636
Mobile: 07974 674514
A J Removals (Bath)
For larger consignments and complete removals
www.ajremovalsbath.co.uk
Tel: 01225 404060
Important Information
At present this will be an online only auction, to be confirmed nearer the sale date.
Public viewing will be available during the week of the sale with the dates and times listed below. We will endeavour to respond to condition report requests as soon as possible but not before week commencing 23rd September.
The property has been tastefully furnished to a very high standard in recent times and includes some fine Antique Furniture, French Furnishings, Mirrors & Lighting with a selection of some lovely French glassware including Lalique and Baccarat
Terms & Conditions
CONDITIONS OF SALE
The Auctioneer acts only as agent for the Seller (unless otherwise specifically declared). Lots sold are likely to have been subject to wear and tear caused by user or the effects of age and may therefore have faults and imperfections. Buyers are given ample opportunity at viewing times to examine lots to be sold and will be assumed to have done so. They must rely solely on their own skill or judgement as to whether lots are fit for any particular purpose.
1. Bids
All bids made shall be treated as offers made upon these Conditions of Sale and all persons present and approved to bid are admitted to a sale on the basis that they have notice of these Conditions.
1A. Internet Bidding
There are no additional surcharges when bidding via our own bidding platform 'GH Live' at www.gardinerhoulgate.co.uk.
We also use two other online bidding platforms via the-saleroom.com and Easylive which will be subject to additional fees. Please see their respective websites for further details and terms.
2. Ascertainment of the Buyer
The Buyer shall be the person making the highest bid which is acceptable to the Auctioneer as signified by the fall of the hammer. No bid may be retracted. In the case of a dispute the Auctioneer may either declare the purchaser or put the lot up again.
3. Auctioneer's discretion
The Auctioneer has sole discretion, (a) to refuse any bid, (b) to advance the bidding as he may decide, (c) to withdraw or divide any lot or combine one lot with another or others, (d) to exclude any person from the auction rooms, and (e) to require pre-payment in full.
4. Reserves and Seller's right to bid
Lots put up for sale are subject, (a) to any reserve price imposed by the Seller, (b) the right of the Auctioneer to bid on behalf of the Seller, and (c) where no reserve has been imposed (but in no other case) for the Seller to bid personally or through any one agent. It is the responsibility of the Seller to ensure any reserves are received by the Auctioneer.
5. Buyer's Duties
The Buyer shall forthwith or as soon as possible after the sale, (a) supply his name and address, (b) supply, if so required, bank or other suitable references, (c) pay the full purchase price in a way acceptable to the Auctioneer, notwithstanding any prior arrangement for advance payment required by the Auctioneer, and (d) on proof of payment clear the lots purchased by the times specified. Lots may not be cleared during the sale except by permission of the Auctioneer.
6. Payments Methods of payment include direct bank transfer, debit card, credit card, cash to a maximum of £8,500, Building Society cheque or Banker's draft. Cheques will only be accepted when supported by a guaranteed card. For fraud protection we no longer accept payments by credit or debit cards for 'Customer not Present' transactions. Card payments at the saleroom will be accepted but must be supported by Chip and PIN. Card payments for live internet bidding will only be accepted if they have been AVS and 3D Secure authorised with a maximum transaction value of £1000. All payments must be cleared before the release of goods.
6A. Anti-Money Laundering Policy Clients spending over £5000 on an individual transaction must supply a current form of ID confirming their name and address to match the invoice. This must be supplied to complete the transaction before the release of goods
7. Liability of the Auctioneer and Sellers
Subject to Condition 8: (a) faults and imperfections (if any) are not stated in the catalogue and neither the Seller nor the Auctioneer is responsible for any defects whatsoever, (b) no warranty is given or authorised to be given by the Seller or the Auctioneer with regard to any lot other than the Seller's right to sell it, (c) any express or implied conditions or warranties relating to description or quality, are hereby excluded.
8. Catalogue Descriptions
Descriptive statements contained in the advertisements or catalogues or made up by the Auctioneer or any member of his staff should be taken as matters of opinion only and shall not be taken as statement of fact.
i) Items in the catalogue are sold as seen. Where possible significant damage is mentioned, but this does not include all faults and imperfections. The absence of such reference does not imply that the lot is in good condition or free from restoration or repair. Condition reports are available upon request
ii) 'Inscribed' or 'Signed' does not imply that the lot is wholly or partly by that maker
9. Forgeries
Notwithstanding Conditions 6 and 7, if the Auctioneer receives notice in writing from the Buyer WITHIN 7 DAYS OF THE SALE that in his opinion a lot is a forgery (as defined in Condition 12) and on giving such notification the lot in question is returned to the Auctioneer at his working premises in the same condition as when bought, then if on considering such evidence as the Buyer supplies to prove his assertion, the Auctioneer decides that the lot is a forgery the sale of the lot will be rescinded and the purchase price repaid to the Buyer.
10. Property in lots and risk
The Buyer shall not become the owner of any lot, and the Auctioneer shall have a lien thereon, until the Buyer has discharged the purchase price in full together with any other charges due, but after the fall of the hammer the risk of damage or loss shall nevertheless be the Buyer's.
11. The Premium
The Buyer shall pay to the Auctioneer a premium of 22% of the hammer price together with VAT. (26.4% inclusive of VAT)
12. Default by Buyer
If the Buyer fails to make payment in a way acceptable to the Auctioneer or to remove any lot or lots bought by him within 7 days of the auction or in any other material respect fail to comply with these conditions, the Auctioneer shall have the right, (a) to resell the lot or lots by public auction or otherwise without notice to the Buyer, and if any deficiency arises on such resale, after deducting the Auctioneer's full costs and expenses, the Buyer shall be responsible to the Auctioneer therefore (but any net surplus to be the Seller's) or, alternatively, (b) to store the lot at the Auctioneer's premises or elsewhere and to release the lot to the Buyer only after payment in full of the purchase price together with any other charges due. The Auctioneer reserves the right to charge storage of 50p per lot per day on any lot or lots uncleared by the time specified together with any removal expenses. In addition, interest will be charged at 2.5% per month or part thereof (34.4% APR) on any accounts that remain unpaid in part or full 1 week after the sale. Interest and storage will be charged from the date of sale. In addition, the Buyer shall be liable for all legal and court costs incurred by the Auctioneers in pursuit of payment from the Buyer. The Auctioneer reserves the right to refuse any cheques and will not release lots purchased until evidence has been received that any cheque accepted has been cleared.
13. Release of Goods
Payment and clearance should be made within seven days after the sale. Goods will not be released until full payment has been cleared and a paid invoice produced. For clients arranging courier or third-party collection: written instruction must be received by the purchaser; identification will be requested from the courier and their vehicle's registration number taken. For security purposes our premises are monitored by 24-hour CCTV
14. Definitions and interpretation
In these conditions: (a) Reference to the 'the Auctioneer' shall be taken to mean the firm of Gardiner Houlgate or any director, partner or employee thereof at the time of sale; (b) Buyers shall be deemed to be the principals unless to the prior knowledge of the Auctioneer they are acting as agent on behalf of a named principal; (c) 'Forgery' means a lot (i) which is so constituted as deliberately to deceive when considered in the light of its catalogue description, and (ii) whose value as such is materially less that if it had complied with the catalogue description; (d) The Interpretation Act 1978 shall apply to the general construction of terms and expressions used in these Conditions as if contained in a statute.
15. Law and Jurisdiction
These Conditions of sale are subject to English law, which shall apply to their construction as well as their effect. The Seller and Buyer agree to submit to the exclusive jurisdiction of the English courts.
16. What is Temporary Importation?
Temporary Importation is a system that applies to lots which have been imported for sale from outside the EU. It allows the point of importation to be delayed until after the sale at auction.
These lots are indicated in catalogues by the use of the following symbol *
Only the Hammer Price will be treated as the import price and the Buyer's Premium will be subject to UK domestic VAT at 20%. So whilst the Hammer Price will continue to be charged with Import VAT at 5% or 20" as appropriate, the Buyer's Premium will always be charged with domestic VAT at 20%
Lots subject to Temporary Importation will be offered under the Auctioneer's Margin Scheme and will be subject to import VAT of either 5% or 20% on the buyer's Premium. Anyone who wishes to buy outside the Margin Scheme should notify us immediately. An invoice under the normal VAT rules and charging VAT at 20% on both Hammer and Premium will then be issued
Temporary Importation should affect only private individual buyers who are resident within the EU. Anyone who is registered for VAT in the EU should be able to recover the VAT on the Buyer's Premium either on their VAT returns or through the 8th Directive Refund Scheme. Any non-EU buyer who exports the lots from the EU will be able to have the VAT refunded provided the appropriate export regulations are complied with
17. Property sold with a * Symbol
These items have been imported from outside the EU to be sold at auction under temporary importation. When Gardiner Houlgate releases such property to buyers in the UK, the buyer will become the importer and must pay Gardiner Houlgate import VAT at 5% on the Hammer Price
These lots will be invoiced under the Auctioneer's Margin Scheme. Gardiner Houlgate must bear VAT on the Buyer's Premium and hence charge an amount in lieu of VAT at 20% on this Premium. This amount will form part of the Buyer's Premium on our invoice and will not be separately identified
VAT registered buyers from the EU should note that the import VAT charged on property released in the UK cannot be cancelled or refunded by Gardiner Houlgate
VAT registered buyers from the UK should note that the invoice issued by Gardiner Houlgate for these items is not suitable evidence in respect of import VAT
VAT registered buyers from the EU countries may be able to seek repayment of the import VAT paid by applying to HM Revenue and Customs. On request, immediately after the sale, the office can either ask HM Revenue and Customs to generate a C79 certificate (for UK buyers), or obtain a copy of the import C88 (for other EU VAT registered buyers), which may be used to claim recovery of the VAT. Otherwise Gardiner Houlgate may re-invoice the lot and charge VAT at 20% on both the Hammer Price and the Premium and provide a tax invoice to the buyer
18. CITES Restrictions
Any lots containing any amount of Brazilian rosewood and endangered species may be subject to restrictions when exporting outside of the EU. It will be the buyer's responsibility to make sure that the relevant paperwork is in place before shipping.
Some lots are sold with CITES article 10 certificates, allowing the commercial use of an item containing an endangered species. Lots subject to this are marked in the catalogue
Import/Export
It is the buyer's responsibility to obtain the correct import/export licenses and CITES licenses for items which they have purchased. Gardiner Houlgate take no responsibility for the export of goods.
19. Gemstones
Many gemstones have been treated in various ways to enhance their appearance. For example, sapphires and rubies are routinely heat treated and emerald treated with oils and resins. Some stones may require re-treating or oiling periodically. Enhancement affects market value, and all Gardiner Houlgate estimates assume that gemstones may have been enhanced.
20. Artists Resale Rights (or Droit de Suite)
On certain lots marked in the catalogues and which are sold for a hammer price of 1000 Euros or greater (converted into the currency of the sale using The Design and Artists Copyright Society threshold calculator on the date of the Sale) the Additional Premium will be the percentage of the amount of the Hammer Price calculated as follows:
0-50,000 Euros 4%
50,000.01 to 200,000 3%
200,000.01 to 350,000 1%
350,000.01 to 500,000 0.5%
Exceeding 500,000 0.25%
See Full Terms And Conditions
More items from this Auction