Rare Syrian Steatite Amulet - Fertility Goddess 5000 BC
Description
Syria - Tel Halaf or similar ca. 5000 BCE. A very very rare small carved steatite amulet carved in the style of the fertility goddesses made famous from this region. Very ample thighs showing she has come to age wide shoulders and simple rounded head. A suspension hole was drilled in the center and this would have been the prized possession of a young woman 7000 years ago! Size: 1" H (2.5 cm)

Provenance: Ex - California Musuem of Ancient Art

Condition: Choice

All items legal to buy/sell under U.S. Statute covering cultural patrimony Code 2600 CHAPTER 14 and are guaranteed to be as described or your money back.

A Certificate of Authenticity will accompany all winning bids.

We ship worldwide and handle all shipping in-house for your convenience.

#115350
Auction Details
Shipping
T&Cs & Important Info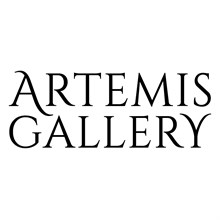 Artemis Gallery LIVE
Syria - Tel Halaf or similar ca. 5000 BCE. A very very rare small carved steatite amulet carved in the style of the fertility goddesses made famous from this region. Very ample thighs showing she has come to age wide shoulders and simple rounded head. A suspension hole was drilled in the center and this would have been the prized possession of a young woman 7000 years ago! Size: 1" H (2.5 cm)

Provenance: Ex - California Musuem of Ancient Art

Condition: Choice

All items legal to buy/sell under U.S. Statute covering cultural patrimony Code 2600 CHAPTER 14 and are guaranteed to be as described or your money back.

A Certificate of Authenticity will accompany all winning bids.

We ship worldwide and handle all shipping in-house for your convenience.

#115350
Exceptional Antiquities, Ethnographic Art
Venue Address
P.O. BOX 714
Erie
Colorado
80516
United States
For Artemis Gallery LIVE delivery information please telephone +1 7205025289.
Important Information
Join us for an important one-day auction on Thursday, June 2nd featuring museum-worthy examples of classical antiquities, ancient and ethnographic art from cultures encompassing the globe. Egyptian, Greek, Roman, Etruscan, Near Eastern, Far East / Asian, Pre-Columbian, African / Tribal, Oceanic, Native American, Spanish Colonial Art, even fossils and minerals, so much more!
Terms & Conditions
Please read the following "Terms of Sale" carefully. These terms are applicable to all bidders, collectors and dealers alike. Your submission of bids constitutes your acceptance of these "Terms of Sale."


1. ArtemisGalleryLive.com offers online absentee auction sales. All items offered for sale have been legally acquired, are legal to sell, and have been vetted for authenticity. All items are guaranteed authentic/as described. By bidding in our auctions, the bidder personally guarantees payment. ArtemisGalleryLive.com has final discretion in all matters. In case of dispute, the lot(s) in question may be resold. Lots will be sold in their numerical sequence unless the auctioneer directs otherwise.

2. LOT ESTIMATES: Each auction lot has a printed, estimated low to high value range, as well as the closing time of that lot. Each lot also has an opening bid which is generally about 1/2 of the low estimate, but this may vary. ESTIMATES are given only as a guide to help gauge your bidding. Lots may sell for a price greater than or less than these estimates. Bids under 50% of the pre-auction estimate may not be accepted. The closing times listed for each lot are Mountain Standard Time (2 hours behind the East Coast, 1 hour ahead of the West Coast).

3. HOW TO BID: Lots will be on view online at least two weeks prior to the first lot's closing time. You may see current bid standings and place bids 24 hours a day, 7 days a week online at www.ArtemisGalleryLive.com. You must register to bid. If requested, online bidders will receive an email notifying them if they have been outbid, as long as they bid at least one day prior to the lot closing time.

4. BIDDING RULES: Your bid, written, oral or electronic, grants ArtemisGalleryLive.com the authority to protect you up to the limit set by you on your stated bid, but not to bid your full bid amount unless the next recorded bid below yours supports that limit. The buyer's premium will be added to your limit. Only the current high bid will be disclosed, not the top bid. In the event of tied bids, the earliest received bid will be adjudged to be the high bidder.

5. BID INCREMENTS: The current high bid is determined by taking the second highest bid and increasing it by one increment. Bidding Increments are as follows: Up to $300 - $25; $301 to 1000 - $50; $1001 to $2000 - $100; $2001 to $5000 - $250; $5001 to $10,000 - $500; $10,001 to $20,000 - $1000; $20,001 to $50,000 - $2000; $50,001 - $100,000 - $5,000; over $100,000 - $10,000. Example: You bid $1000 on a lot which has a minimum bid/reserve of $500. Your bid is the highest received to date. The second highest bid received, to date, is $550. The current high bid is yours at $600. Any new bid received below your bid of $1000 will automatically be topped by the auctioneer, bidding for your account.

6. BID UPDATES: You may call the saleroom prior to the closing times of any auction lots to place new bids or to check the status of your already placed bids and adjust them if necessary. Incoming bids will be accepted until the closing time of the individual lot.

7. HOW LOTS SELL: No lot will sell while there is still bidding activity on it.

8. BUYER'S PREMIUM: A Buyer's Premium equal to 22.5% will be added to the hammer price of each lot.

9. PAYMENT POLICY / METHODS OF PAYMENT: Payment is due, in full, upon receipt of invoice. No lots will be released until payment has been made. Final invoices will not automatically be charged to your credit card unless requested (if requested, these payments will be subject to a 4% surcharge due to credit card processing fees). Payment (in U.S. funds) may be made via personal or money order, via credit card (MasterCard, Visa, Discover or American Express), PayPal or Bank Wire Transfer. There will be a 4% service fee for all Credit Card and PayPal transactions. All unpaid invoices past 30 days will be charged to the credit card on file along with the 4% credit card surcharge and a late fee equal to 1% of your total unpaid balance. Failure to settle your auction invoice within 30 days may also, at our discretion, result in forfeiture of the lots won, as well as revocation of future bidding privileges. Should an invoice remain unpaid after 30 days and we are unable to collect via credit card, ArtemisGalleryLive.com reserve the right to use any and all remedies available to us by law, to collect monies due, plus incurred fees and penalties, as stated.10. SALES TAX: Appropriate Colorado Sales Tax will be added to all invoices, unless a valid CO reseller's permit is on file with ArtemisGalleryLive.com prior to any bidding. Items shipped outside of CO (United States or international) are sales tax exempt.

11. VAT: If you live within the EU, VAT may be added to your invoice. Some of the lots are physically located outside of the USA. If said lots are subject to VAT / duties, VAT will be added to the final invoice and must be paid. Please email us before bidding to see if the lots you are interested in may be located and/or shipping from or within a European location.

12. SHIPPING LOGISTICS: As a courtesy to our clients worldwide, ArtemisGalleryLive.com is happy to arrange shipping for every lot sold, taking the hassle (and high cost!) out of having to arrange shipping on your own. Shipping costs will be added to your invoice at auction's end based on information given when you registered to bid – we strive to offer the most economical shipping costs to ensure safe transit. Our shippers of choice are FedEx and UPS, but we can ship via other carriers as deemed necessary or by request. **For shipments outside of the USA, customs and duties may apply upon entry in to said country, and this fee, if any, is the buyer's responsibility. If you have questions about this, please inquire BEFORE bidding** Items will be shipped only upon receipt of payment in full and will be insured for their full value – no exceptions.

13. RETURN POLICY: All lots sold by ArtemisGalleryLive.com are guaranteed genuine, as described both as to condition and authenticity. Any lot may be returned within five days if inaccurately described as to age, extent of damage or repair. All returned lots must be adequately insured against loss or damage and must be received by us in the same condition as when shipped. Any dispute as to authenticity must be made within three months of the sale date. After that period, all sales will be considered final. Accurately described lots are not returnable. Any lot returned after the consignor has been paid (45 days after auction closing date) will be for credit only.

14. UNSOLD LOTS may be re-offered after each auction's end on a Buy-it-Now basis at the stated price. All successful after-auction purchases will be at the stated price plus the 22.5% buyer's premium and any applicable shipping charges, sales tax and/or VAT.

15. Auctioneer reserves the right to withdraw any lot for any reason, prior to the auction closing. ArtemisGalleryLive.com is not responsible for any typographical errors in the online catalogue. In the event of a system, site or internet failure, ArtemisGalleryLive.com reserves the right to postpone any closing time and date of any unsold lots. We will execute absentee bids, at the bidder's request, faithfully and to the best of our ability, but we assume no responsibility for errors, deletions or omissions. Any disputed lot may be re-offered or re-opened for extended bidding, at the auctioneer's discretion.

16. UNPAID INVOICES: If the auction invoice is not paid for in full when due per invoice terms, including any applicable credit card processing fees, the unpaid balance will bear interest at the highest rate permitted by law until paid in full. If the matter is referred to an attorney for collection, bidder agrees to pay all reasonable attorney fees, court costs and other collection cost incurred by ArtemisGalleryLive.com to collect past due invoices and that the services of process by certified or registered mail, return receipt requested, shall be sufficient to confer "in personam" jurisdiction over bidder.

17. Buyer agrees that any claim of controversy arising out of, or relating to the formation, interpretation of performance of these terms and underlying transactions or the breach thereof, is subject to arbitration or judicial proceedings and shall take place within the County of Boulder, CO subject to the laws of the State of Colorado.

18. QUESTIONS? Feel free to email us with questions prior to bidding or feel free to call us at 720-502-5289 or 720-936-4282. Please be sure to ask all questions at least 10 minutes prior to any auction lot's ending time.
See Full Terms And Conditions