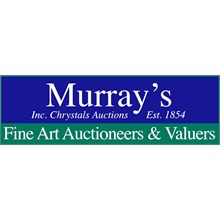 Catalogue
Important Information
Venue Address
The Saleroom
Poyll Dooey Road
Ramsey
Isle of Man
IM8 2LB
United Kingdom
Email auctioneer
Murray's website
+44 (0)1624 673986
Currency: GBP
Terms and Conditions
Fine Art and Antiques
Venue Address

The Saleroom
Poyll Dooey Road
Ramsey
Isle of Man
IM8 2LB
United Kingdom

View

Hide

map
Sale Date

06 Sep 2013 11:00 BST
Viewing dates

05 Sep 2013 10:00 BST - 19:00 BST
06 Sep 2013 09:00 BST -
Important Information

Buyer's Premium 15% + VAT

TERMS: Bank Transfer, Cheque or Cash: The Auctioneer regrets that if you are not known to him or have not established a satisfactory credit rating with the auctioneer, proof of credit worthiness will be required to accept bids and / or release lots purchased.

Payment by credit or debit cards are not be accepted. Invoices of lots purchased will be available shortly after the lot is sold. All lots must be paid for and collected on the Sale day except by rior arrangement. The auction should be finished approximately three hours after its start..

If you wish to bid at the auction, you must be registered beforehand and have a bidding number. If you are not an existing bidder with Murray's, you may be required to provide proof of identity.

If you cannot attend the auction but wish to leave a bid, you may do so by completing a bidding slip requesting the Auctioneer to bid on your behalf or request a telephone bid. These are subject entirely to staffing. Estimates for each lot are printed in the catalogue.

Shipping:
Murray's will pack and post small items at reasonable cost, or arrange a carrier to the UK and abroad. Packing will be charged if required.
Terms and Conditions
Map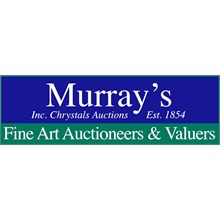 Contact details
Delivery
This auctioneer offers the-saleroom.com delivery service. We can collect, pack and deliver to your door.
The cost of delivery is shown in each lot description. The more lots you buy from this auction, the more you save on delivery.
View Delivery Pricing for information on buying multiple lots.
After the auction ends, you receive a delivery quote email for your consideration.
Delivery is scheduled to take place 7-10 working days after the final auction day, and we provide tracking information. Deliveries for large and special items (categories E, F, G and POA), and those outside the EU may take longer.
'Carriage liability' for loss or damage is limited to the lesser of the hammer value (including all auction premiums and VAT) or £150 per lot. You can purchase additional liability cover at a cost of 3% of the value over £150 and up to £3,000 per lot.
View our Frequently Asked Questions for further information.
Bidder Terms and Conditions apply to this service.
Refine your search
Filter with new price range