Lot 110 - Frederick Marianus Kruseman (1816-1882) - Winter landscape with figures skating on a frozen river, a
Add to favourites
Description:
Frederick Marianus Kruseman (1816-1882) - Winter landscape with figures skating on a frozen river, a thatched cottage among trees to the right, signed, oil painting on panel, 52 x 77.5 cm, scrolling giltwood frame, Provenance: MacConnal Mason
* The description of the above lot by the auctioneer in the language of the auction is the governing description. Any translation using Google translate is a guide only - its accuracy cannot be guaranteed and it is used at your own risk.
Estimate:
30,000 GBP - 40,000 GBP
Category:
Fine Art & Antiques
Important Information
Terms and Conditions
Venue Address
The Auction Rooms, Manor Farm, Itchen Stoke, Winchester, United Kingdom , SO24 0QT
Two Day Sale of Fine Art, Antiques and Interiors
Venue Address

The Auction Rooms
Manor Farm
Itchen Stoke
Winchester
SO24 0QT
United Kingdom

View

Hide

map
Sale Date

29 Jan 2013 10:00 GMT

30 Jan 2013 10:00 GMT
Important Information
Day 1 Lots 1-439
Day 2 Lots 440-820
Buyers premium (commission) 18% + vat (21.60% inclusive), on-line bidders are subject to an additional 3% + vat for this service.
All room buyers need to register at the office for a paddle number to enable them to bid, this process is simple and very quick. However, we do require some form of identification, ie. Driver`s licence/passport.
Absentee Bidding
Buyers unable to attend the sale are welcome to submit commission bids. Forms are available at the front desk. Commission bids can also be emailed to auctions@andrewsmithandson.com. Bids may also be accepted by fax or telephone prior to the sale. Telephone bidding is also available but we recommend that you arrange for this facility to be available to you at least one day before the sale. We cannot guarantee this service due to restrictions on the number of available telephone lines. Any bids entered using these methods are done so at the bidders risk. Andew Smith & Son can accept no responsibility for any neglect or default in executing or failing to execute commission or telephone bids.
PLEASE NOTE: PROSPECTIVE BUYERS WILL NEED TO PROVIDE CREDIT/DEBIT CARD DETAILS WHEN SUBMITTING BIDS.
Terms and Conditions
INFORMATION FOR BUYERS


Shipping:
We do not offer post/packing service but do recommend the following professionals; Mailboxes 01962 622133 – Pack & Send 02380 713444

1. INTRODUCTION
The following information notes are intended to assist Buyers, particularly those inexperienced or new to our salerooms. All sales are conducted on our printed Conditions of Sale which are readily available for inspection and normally accompany catalogues. Our staff will be happy to help you if there is anything you do not fully understand.
2. AGENCY
As auctioneers we usually contract as agents for the seller whose identity, for reasons of confidentiality, is not normally disclosed. Accordingly if you buy, your primary contract is with the seller.
3. ESTIMATES
Estimates are designed to help buyers gauge what sort of sum might be involved for the purchase of a particular lot. The lower estimate may represent the reserve price and certainly will not be below it. Estimates do not include the Buyer's Premium or VAT (where chargeable). Estimates are prepared some time before the sale and may be altered by announcement before the sale. They are in no sense definitive.
4. BUYERS PREMIUM
The Conditions of Sale oblige buyers to pay a buyer's premium at 19% on the hammer price of each lot purchased. In addition, VAT is included in this premium (see below).
5. VAT
(*) indicates that VAT is payable by the purchaser at the standard rate (presently 20%) on the hammer price as well as being an element in the buyer's premium. This imposition of VAT is likely to be because the seller is registered for VAT within the European Union and is not operating the Dealers Margin Scheme or because VAT is due at 20% on importation into the UK. The double symbol (**) indicates that the lot has been imported from outside the European Union and the present position is that these lots are liable to a reduced rate of VAT (5%) on the gross lot price (ie both the hammer price and the
Map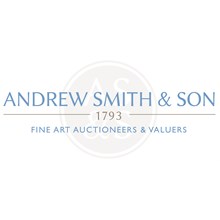 Contact details
Your enquiry has been sent.
Close